Recently I have been expanding my collection of ancient history themed t-shirts and I thought I'd post about where I bought them from. It's great to support the artists behind these, so get your history nerd on and in the words of Ru Plato "start serving ancient history realness".
Please note that all the t-shirts were bought, this is not paid content and let's face it who'd want me to model anything?
We'll start with my most recent purchases, Flaroh has some excellent designs on her site. I had bought one of these a while back, some of you might recognise it as Medea fleeing on her sun chariot. I have just added to this with a Greek vase t-shirt.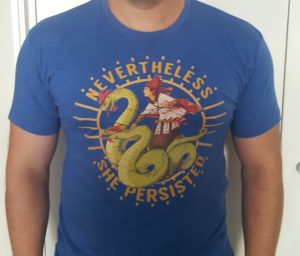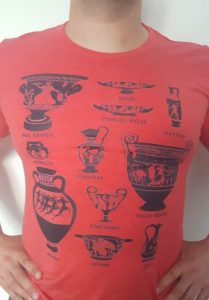 The quality of the t-shirt is great btw, which is good to know when you are buying online.
Here's Flaroh's website and you can find Flaroh on twitter @flaroh
Next up Arkaois Design with Medusa. It's a cracking image and the quality of the t-shirt is good. I specifically wore this for a day at work which I knew was going to be challenging. Got to get my apotropaic vibe on.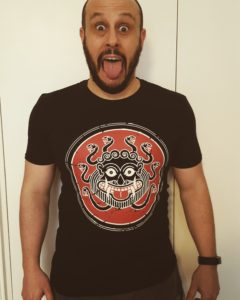 The difference is Medusa still has all her own teeth, as well as tusks.
Despite a chap turning up to a meeting on a flying horse the day went well, as a rational human being I put this all down to the top. If you want to know more about Medusa, here's my #VaseVlog all about a vase depicting her (both parts in fact).
Here's their website and you can follow Arkaois Design on twitter @ArkaiosDesign
Amorphia Apparel has a number of t-shirts covering a range of topics and themes (their Science section is brilliant). They also have a range which deals with history and it includes both Carthage and Rome, and the elephant swung it in this instance.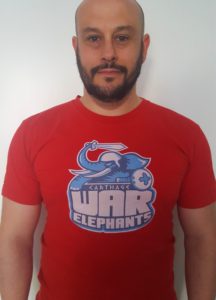 Here's the main website and they are on twitter as @amorphiaapparel
Seamless segue alert, I found this t-shirt with the Punic War map on it. Certainly niche but very apt when you are visiting museums in Spain or on a flight to Spain. I know Spain was definitely involved somewhere. The fabric is a tad on the heavy side but it's not a problem.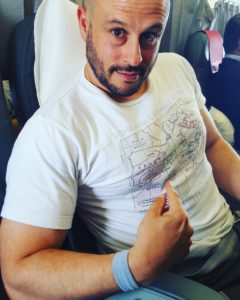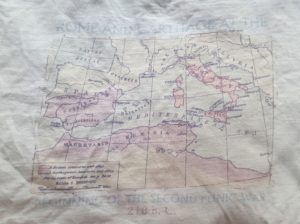 in business class with an non ironed item? Rock star attitude
We move from maps and indulge ourselves into being able to describe the next offering as literally history. Litographs have a range of t-shirts which draw inspiration from great works. The Iliad is one of them and here it is.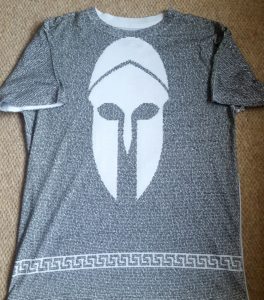 The design is made up from the lines of text from the work. Brilliant idea and they have other products with the same premise.
This is their website and on twitter @litographs
Next up is the Panoply Vase Project. I'd suggest checking out their site in general as they do some great work with their animations. The shop has more than clothing so, again, one for a good browse. I bought two tops from them, because reasons.
oh instagram filter, how I adore thee
Their website is here and the shop menu is on the left
Moving towards the more mythical, here's one I picked up recently. Who doesn't love a retro Minotaur?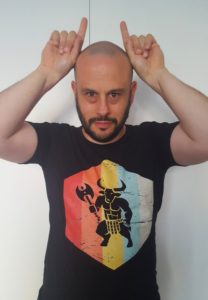 this will be the one which comes back to haunt me
I found it here
With one toe dipped into mythical monsters we'll jump headfirst and you'll usually find Ray Harryhausen not far away. This is one I wore to the Harryhausen exhibition last year, I think I'm not alone in stating that Ray Harryhausen's creations hooked me at an early age. In the case of Medusa it also terrified me. Anyway, here's a t-shirt featuring some of his work.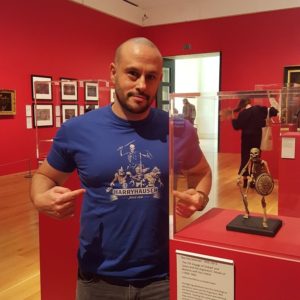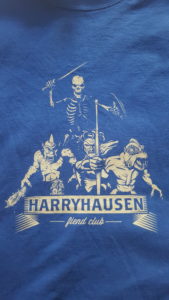 Pointing at myself, a new hobby
It was a while back but I think this site is where I found the design
If you have any you've seen please tweet me @ancientblogger as it's always payday somewhere in the world. Probably.